easy
1 hr 40 mins
Serves 6-8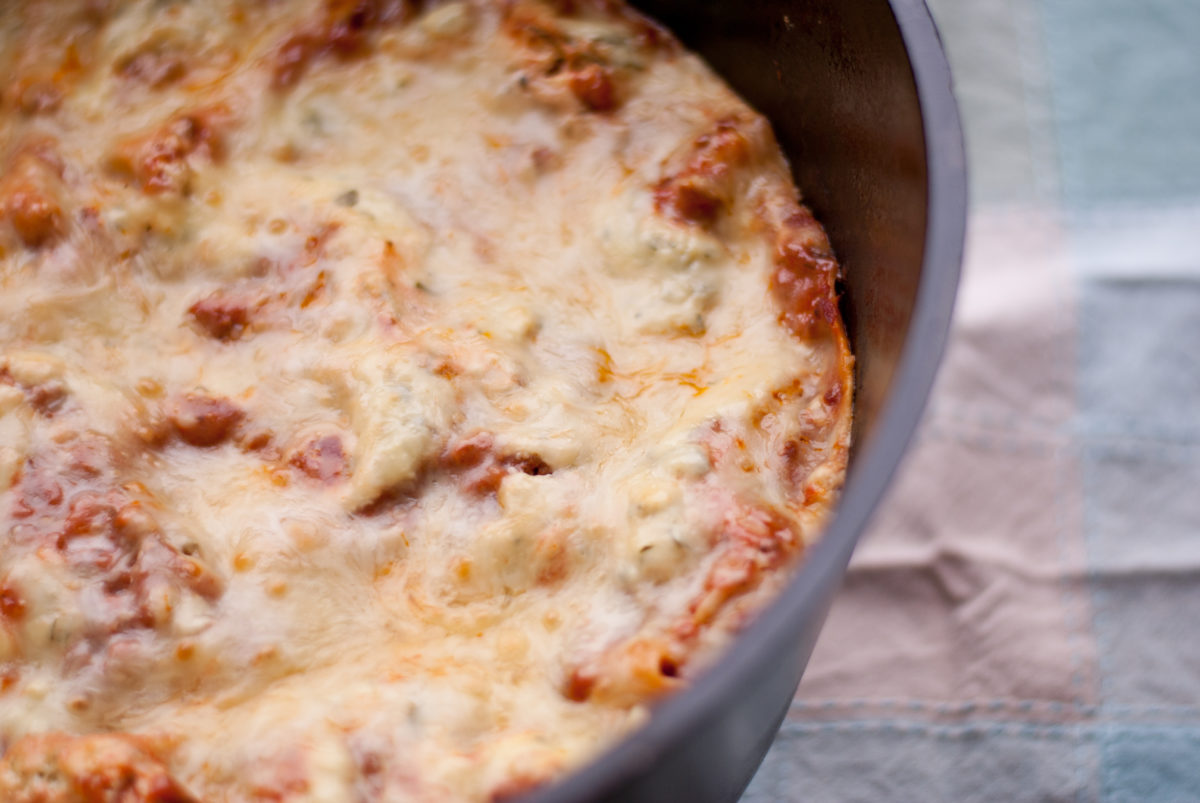 Why did I create a really easy lasagna for camping, and why a dutch oven lasagna recipe?  After all lasagna and outdoor adventure goes together like peas and carrots right?
Well I'll let you in on a little secret: The iron in the dutch oven reacts to the acid in the tomato sauce, giving you a uniquely delicious lasagna flavor.
 With the help of ®Barilla Oven Ready lasagna noodles, and a little preparation at home, this easy lasagna recipe will become one of your favorite camping foods. 
This recipe calls for 4 layers (as oven ready noodles tend to be thinner than traditional noodles), but 3 layers will make the lasagna assembly process a little more easy
Noteworthy: The acidity of the marinara sauce will pull any oils you use to coat the dutch oven into the dish itself. So let's keep it clean people -Canola or Olive oil only.
If you'd like to enjoy something a little different, but just as hearty try the Jalapeno Cornbread Casserole
Easy Dutch Oven Lasagna
easy
1 hr 40 mins
Serves 6-8
Ingredients
Directions
In a skillet on medium high heat, add the onions, garlic, beef, and sausage until the meat is browned, and the onions are soft

Add the marinara sauce, sugar, Italian seasoning, salt, pepper, and simmer for about 30 minutes

Mix the ricotta cheese with the egg, parsley, and 1 teaspoon salt

Lightly oil the inside of a 12 inch dutch oven

Break off the corners of the lasagna noodles as you build a layer, using the corner pieces to fill in the gaps.

Spread about ¼  of the meat mixture over the noodles, then ¼  of the ricotta mix, followed by ¼ of the Parmesan and mozzarella

Add another layer of puzzle pieces (I mean noodles) and another layer of meat, ricotta, and cheeses (repeat until you have 4 layers)

Start about 28-30 charcoal briquets in a chimney and place ⅓ of them underneath the dutch oven

Arrange the rest of them on the lid to create a temperature of about 375 degrees

Cook for 40-45 minutes, rotating the oven and lid ¼ turn in opposite directions every 15 minutes

Remove the lid, and allow to cool for about 10 minutes before serving